10 Best Keto-Friendly Recipes To Try This Fall
It's that time of the year again and we're ready to cozy up in front of the fire, have some hot chocolate or a pumpkin spice latte (if you're so inclined) and get ready for those dark nights!
I don't know about you but I look for something warm and comforting for the cooler weather so we've got some of the best recipes for this season that you'll love that are all keto friendly!
Low Carb Tin Foil Dinner
credit: https://kalynskitchen.com/low-carb-autumn-tin-foil-dinners/
Tin foil dinners are so easy to do and Kalyn's Kitchen has nailed this. Super simple and a cook and leave dinner, this is a great one for you and the family
Spicy Beef Chili - No Beans!
There's nothing I love more than a spicy chili on a cold night and this low carb one is a perfect pantry based meal!
Instant Pot Loaded Cauliflower Soup
 credit: https://loveinmyoven.com/instant-pot-loaded-cauliflower-soup/ 
 A keto take from Love In My Oven on a loaded potato soup using the most versaitle low carb veggie, Cauliflower!
Roasted Pumpkin Soup
 https://www.lowcarb-nocarb.com/roasted-low-carb-pumpkin-soup-recipe/ 
There's nothing better than a hot soup and even though the crusty bread is out, it doesn't mean we can't enjoy this lovely looking bowl!
Keto Red Curry Chicken Chiang Mai Style 
https://madcreationshub.com/recipe/keto-red-curry-chicken/
Spicy red curry with peanuts is the perfect make ahead dish that's a great fakeaway alternative to the carb heavy curries and rice pre-keto!
Easy Low Carb Keto Pecan Pie Mug Cake
Credit: https://www.lowcarbspark.com/keto-pecan-pie-mug-cake/ 
Low Carb Spark gives us a great take on the pecan pie by putting it in mug cake form for us to enjoy in 1-person portions!
Keto Pumpkin Cheesecake
 credit: https://www.simplystacie.net/2018/11/keto-pumpkin-cheesecake/  
One of the most loved veggies in this season is the mighty pumpkin. Even though it is a squash, it is still low carb and full of fibre! Simply Stacie makes this look pumpkin cheesecake look amazing!
 Sugar Free Gingerbread Men

https://www.wholesomeyum.com/recipes/sugar-free-gingerbread-cookies-low-carb-paleo/
Cookies on keto? I know... shocked. But this family favourite recipe from Wholesome Yum is such a good way to get kids involved in sugar free cooking. Let them decorate to their hearts content.
Keto pumpkin spice latte:
https://www.gnom-gnom.com/keto-pumpkin-spice-latte/
Who could forget the pumpkin spice latte: the epitome of fall in a cup! This recipe by Gnom-Gnom is great!
Keto Hot Chocolate!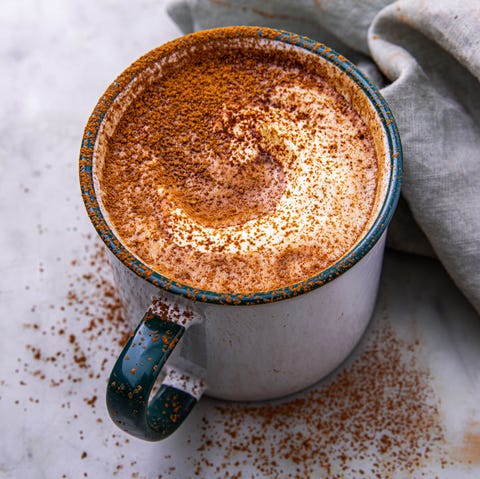 https://www.delish.com/uk/cocktails-drinks/a30650619/keto-hot-chocolate-recipe/
There's not much more to say other than: who doesn't love hot chocolate!? One for the whole family!
---